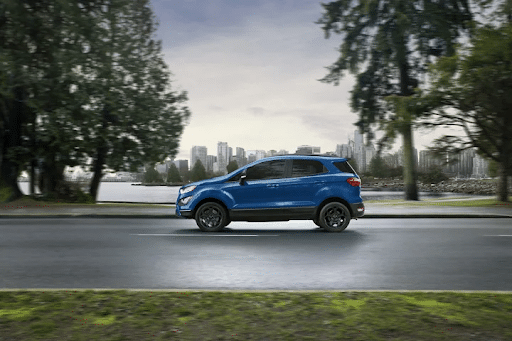 Our team at Dingwall Ford Kenora knows that it's exciting and a little nerve-wracking to have a first-time driver in the house. If you're looking for a vehicle for this inexperienced driver, we have great news!
The Ford EcoSport is sporty, stylish, and safe. You'll find a comfortable design, fun features, and safety innovations that make the driver and those who love them most feel better about being out on the road.
Design
The Ford EcoSport is a subcompact SUV. In fact, it's the smallest vehicle in all the Ford models. Though it may be small, it is fierce! With four models to choose from, you have a range of options to fit your lifestyle best.
Features like available intelligent 4WD and hill start assist give you added control and performance. It's comforting to know that drivers won't have the anxiety of rolling backward while being stopped on a hill or losing traction on challenging terrain.
A unique rear-swing gate offers you easy and convenient access to the cargo area. The hideaway latch adds a dash of whimsy to the design, and the 60/40 Split-Fold Rear Seat gives you versatility when you pack.
Ask your sales team member about the SE Appearance Package that includes a 6-way power driver's seat, a leather-wrapped steering wheel, and unique cloth seating. If your driver is looking for a little pizzazz, this may be an excellent place to start.
Features
Ambient lighting makes a real impact in the EcoSport. With seven intensities and seven colors (red, blue, purple, orange, aqua, white, or yellow-green) to choose from, you can enhance your mood or change it. Enjoy the glow from front console cupholders, door release handles, front-door map pockets, and front footwells.
Sometimes, it's the little things that make a big difference! Let a little sunshine in with the available power moonroof. With the touch of a button, you'll enjoy warm breezes and blue-sky views.
Staying connected has never been so important. Our available SYNC 3 with an 8-inch touchscreen works like your smartphone and provides the connectivity you need. Swipe, click, and in navigation mode, pinch to zoom. This touchscreen puts you in control.
Ford MyKey is available on the EcoSport. This revolutionary safety technology helps parents reward first-time drivers for making good, safe driving decisions. A programmable keyfob makes seatbelts mandatory, limits top speeds, decreases audio volume, and enables Do Not Disturb functions on smartphones. This system alone will save you from sleepless nights and encourage your first-time driver, even when you're not in the passenger seat.
Safety
No matter how much driving experience you have, your safety is always our priority. The Ford Co-Pilot360 Technology suite, standard across most Ford models, places driver-assist innovations at your fingertips. Safety features like these will empower your driver and bolster good instincts. Features include:
Blind Spot Information System with Cross-Traffic Alert. Don't rely on your passengers to help clear the way! When traffic moves into your blind spot, we will alert you. This system helps keep you aware of what's around you.
Cross-Traffic Alert. When you're in reverse, our system detects traffic moving on either side of your back bumper. You'll know when you're clear to back out of street traffic or into a crowded parking lot.
Hill Start Assist. When stopped on a hill, this system gives you a three-second hold as you transition your foot between the foot and the brake. You won't roll backward, which means you won't have anxiety about the upcoming transition either. That's a win-win!
Voice-Activated Navigation System. This available Navigation System routes you safely from point to point. It can also locate favorite restaurants, nearby gas stations, even coffee shops. Just tell it where you want to go and head out!
These are only a handful of the many ways Ford works to keep your driver safe on the road. There are a multitude of safety features both standard and available on the EcoSport. Please talk with a sales team member to walk through each of them. You and your first-time driver will feel a sense of relief when you know the assistance available to you.
About Us
Our team at Dingwall Ford Kenora knows what an exciting time this is for your first-time driver! We want to make this experience a good one for both of you.
Talk with us about your priorities, biggest concerns, and must-haves. We will help you choose the best options based on our professional training and years of experience. Together, we can walk through all your choices and help you think through any important questions. We're listening!
The Ford EcoSport has lots to offer. Come see for yourself! Visit us on Highway 17 East. Take a test drive. Try out all the amenities. See the safety features in action. Then, take an EcoSport home!