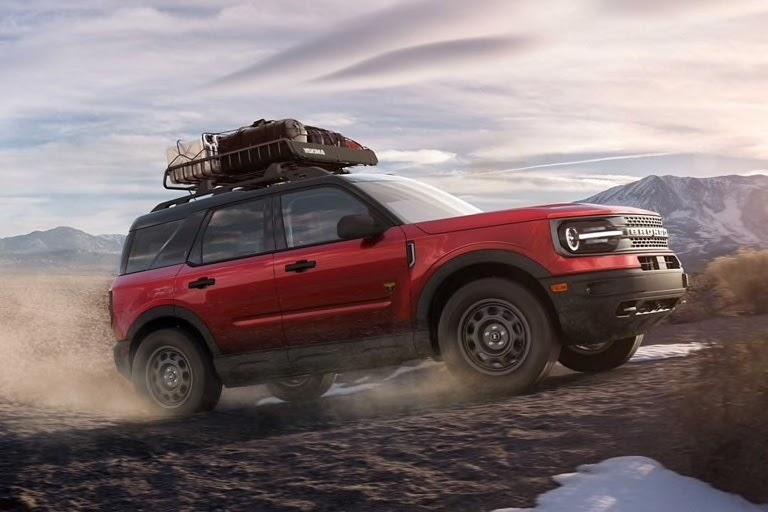 If you're looking to blaze new trails, strike out on an adventure, or you hear the wilds calling your name, then the all-new Bronco Sport is the vehicle you want at a price you can afford.
Capability
For folks who love adventure, utility is a top priority. The Bronco Sport gets you over the river and through the woods with ease. Offering a purposeful design with easy-to-clean surfaces inside and out, the Bronco Sport boasts roomy interiors thanks to the safari-style roof, which is tall enough for two bikes in the back.
The 4x4 G.O.A.T. Mode (Goes Over Any Type of Terrain) is standard and gives you all the confidence you need to take on any type of terrain. Choose from Sand, Slippery, Sport, Eco, and Normal. The Badlands model comes with two additional modes: Mud/Ruts and Rock Crawl. This adventurer won't strand you on the sidelines.
Every Bronco Sport has an aptly named High-Performance, Off-Road, Stability, Suspension (H.O.S.S.) system that helps keep knocks and rocks to a minimum while adventuring through the most rugged terrain. Rear shocks, softer springs, and anti-roll bars certainly provide added comfort as you explore the road less traveled.
The Bronco Sport Badlands provides 23.6 inches of water-fording capability, just in case you've met a watery surprise! Although we always recommend you proceed with extreme caution over any waterway, you do have a little extra room to puddle-jump or mud bog.
Safety
Ford has always had your safety as a top priority. The Ford Co-Pilot360 safety suite and many other driver-assist technologies come standard on the Bronco Sport. Be sure to ask the knowledgeable salesperson at the dealership to explain which safety features are standard with the model in which you are most interested. Features of interest are:
Evasive Steering Assist. No matter how hard we try to expect the unexpected, sometimes unavoidable situations present themselves. By using Ford sensors and cameras, this feature warns you if you're going too fast for the traffic ahead of you. If that's not enough, steering assist can help you maneuver around the object ahead by providing steering support.
Adaptive Cruise Control with Stop-and-Go. There is no way to avoid the highway all the time! When you're driving long distances, this system is a real convenience. It allows you to set not only a preferred speed but also a preferred distance from the traffic ahead of you. Should the traffic slow, the system slows your vehicle, too. The good news is, in stop-and-go traffic, the accelerating is all done for you. All you have to do is enjoy the view!
Auto High-Beam Headlamps. Don't let low-visibility areas catch you off-guard. With this system, sensors detect poor lighting conditions and switch on the high beams to light the path (and the periphery) ahead. If oncoming traffic is detected, you don't have to remember to dim your lights, either. The sensor does it for you.
We put our innovative technologies directly on the trail. The available GPS navigation system gets you out and safely back again. Like Hansel and Gretel, your GPS drops virtual breadcrumbs along your path so that the GPS can remember the route in case you need assistance in getting back to base.
Want to get off the trail? No problem! At slow speeds, the front 180-degree camera with split-view lets you see up close what lies ahead, bringing clarity to the trail and giving you an idea of what is in your path. A built-in washer clears off debris, so you're guaranteed a clear view.
Features
The Bronco Sport is always prepared with an abundance of helpful features! Ford would never send you into the wilds without ample room for supplies. The safari-style roof provides extra height and more space for gear and equipment. The roof-rack structure can handle up to 150lb dynamic load with the standard steel roof. So, don't worry about having to make tough choices about what to take along.
Use the Cargo Management System to create dividers and storage spaces for small or medium items, and then use it as a table back at camp. Throughout the interior, you'll find nooks, crannies, and convenient storage areas for all the gear you need to take along. There are even hiding places to secure valuables while you're completely away from your base.
About Us