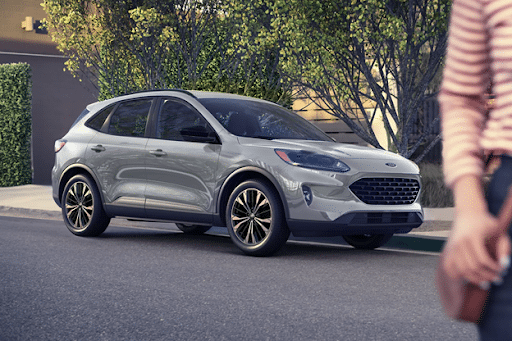 Driving has long been the quality in-between time needed to wind down after work or pump up for an activity. Having a car that is both comfortable and powerful helps with those times. Here at Dingwall Ford Kenora, we believe that the Ford Escape is the perfect car for any commute, be it work, school, or nights out on the town. With its top-of-the-line technology and power, the Ford Escape has all the capability you want in a new car coupled with convenient features you never knew you needed. When you drive off in the Ford Escape, you'll wonder why you ever drove anything else!
The Ford Escape features the newest in Ford Co-Pilot360™ Technology. This driver-assist technology helps you get safely from point A to point B, meaning you can relax or pump up with ease. The Co-Pilot suite offers the following safety measures:
Pre-Collision Assist with Automatic Emergency Braking (AEB)
This innovative technology can detect possible collisions ahead of your vehicle. The sensors on the front of the Escape can pick up cars, animals, and pedestrians, giving you ample warning to stop. If you don't take appropriate action to avoid the collision, the Escape can apply emergency braking to protect your passengers.
BLIS® with Cross-Traffic Alert
A series of sensors on the sides and back of the Escape can alert you to the presence of cars in your blind spot or coming up behind you. You won't have to worry about triple-checking to make sure you can switch lanes. And with the addition of the rear-view camera, long gone are the days of straining your neck to make sure the coast is clear before backing out of a parking spot.
Active Park Assist
Trying to park in a city or other populated location can be stressful and nerve-wracking, but the Ford Escape's new parking assist technology removes the tension. Active park assist can locate a viable parking spot and navigate itself. By using the sensors on all sides of the car, the Escape can get into and out of any tight spot without accidental dings or scrapes.
Adaptive Cruise Control with Stop-and-Go and Lane Centering
Driving in traffic requires a lot of focus and attention, which can put additional stress on a driver who may already be wound up from work. The new ACC feature can help keep you calm during stop-and-go traffic. When it's turned on, the adaptive cruise control will maintain your pace with traffic, automatically slowing down as the cars in front slow down and then getting back up to speed as traffic clears up. The additional lane-centering feature will keep your car from veering out of its lane.
Evasive Steering Assist
Sometimes, no amount of braking on your end or the car's will be enough to avoid a collision. The new evasive steering assist on the Ford Escape can help steer you out of the way of an accident. The sensors on your car will check that the way around is all clear and then provide additional steering power and support if you decide to steer out of the way of a collision. (Evasive steering assist does not steer the car for you.)
Lane-Keeping System
It's not always easy to keep your full attention on the road. Sometimes you're overworked and tired; sometimes you're distracted by music; other times you've got kids fighting in the back seat. The lane-keeping system on the Ford Escape will scan for your car's position within your lane and alert you if you start to drift over.
Auto High-Beam Headlamps
Driving at night can be a hassle on its own, but driving along unlit roads and dark areas can be even more problematic. What's worse is the feeling of guilt you get when you see a car drive by and realize you forgot to turn off your high beams. The new light-sensing technology on the Ford Escape works with the car-detecting sensors to help automate your high beams. High beams will automatically activate when the car senses poor lighting conditions and will automatically deactivate when they sense an oncoming vehicle.
Driving to and from work, school, or social gatherings should be a time to prepare or unwind as needed. With the available technology of the Ford Co-Pilot360™, the Ford Escape helps make that commute dream a reality. If you want a car that will help you stay safe and on task while driving, parking, and sitting in traffic, then you need an Escape. So come on down to Dingwall Ford Kenora or give us a call at 844-616-4546 to schedule your test drive today. Once you get a taste of the Escape, you'll never want to drive anything else.