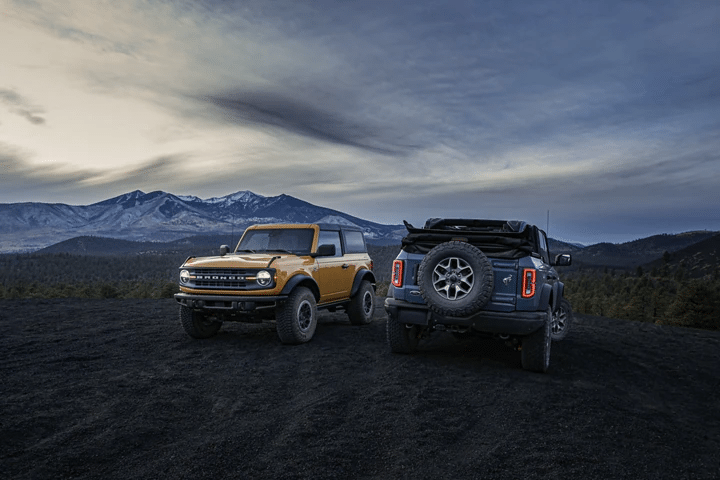 Sometimes a car is simply what you use to get around town. Other times, it's a rough and rugged travel companion that helps you seek out adventure. Whatever adventure you're looking for, at Dingwall Ford Kenora, we know that the Ford Bronco is the adventuring pal for you. With six different packages, all offering a variety of features for any outdoor adventure, the Bronco is built to handle anything you toss at it. So feel free to traverse mountains, ford streams, and navigate forests in whichever model you choose.
Base Model
Although it may seem like a basic option compared to the others, the Bronco base model is undoubtedly a worthy contender. It comes fully equipped with all that makes a Bronco stand out, including easy-to-remove doors and roof for complete outdoor immersion. The base model comes with 30-inch all-season tires and 16-inch bright polished silver-painted steel wheels and features a 7-speed manual transmission for full control. Because it comes with only the necessities, the base model is the perfect starting point for anyone who wants to customize their adventures.
Big Bend
Being out in the wild doesn't always mean you have to give up the comforts of a luxurious life. The Big Bend is built to power through any adventure while supplying drivers and passengers alike with comfort and care. Outfitted with several comforting features, the Big Bend looks and drives like a rough-and-tumble machine, yet feels like a luxury car. The remote start with heated seats and a leather-wrapped steering wheel are all guaranteed to warm you right up after a long day out in the wilderness. And its 32-inch all-terrain tires with the Terrain Management System will make sure you spend only as much time in the great outdoors as you want.
Black Diamond
If you plan to go big and never go home, the Black Diamond is the perfect model for you. Built to withstand anything nature has to offer, the Black Diamond model can take a beating and still come out looking amazing. Powder-coated steel bumpers and full underbody bash plates will protect all your car's vital equipment as you drive over jagged rocks and overgrown roots. The rubberized flooring is fully wash-out compatible, featuring active drains that make clean-up a breeze. If you need a strong vehicle that can take the punches, you need the Black Diamond.
Outer Banks
Who says adventuring can't also be stylish? The Outer Banks model has all the features a car needs to adventure in style. With its door handles, fender flares, and side mirrors painted to match the body color, the Outer Banks shows off its driver's aesthetic while powering along any off-road course. The leather-trimmed seats offer additional interior flair, while the 12-inch LCD touchscreen and B&O sound system from Bang & Olufsen keep you and your passengers entertained. If you need to travel in style, you need the Outer Banks.
Badlands
If the Black Diamond model caught your interest but still didn't feel like it provided the power and protection you needed, then the Badlands is the model for you. With its Bilstein position-sensitive monotube shocks, stabilizer bar disconnect, and both front and rear locking differentials, this Bronco packs as many punches as it can take. You can choose from 35-inch or 33-inch mud and all-terrain tires to make sure the Badlands doesn't get stuck. And with the same easy clean-up features as the Black Diamond model, you won't have to spend hours cleaning up after a rousing adventure.
Wildtrak
If you truly desire the most power a Ford Bronco can offer merged with style and sensibility, look no further than the Wildtrak. Equipped with 35-inch tires wrapped around 17-inch beadlock-capable wheels, position-sensitive monotube shocks, and both front and rear locking differentials, the Wildtrak is built to take on any adventure. Its 2.7L twin-turbocharged V6 engine and 10-speed automatic transition deliver a powder keg of energy just waiting for you to release. The Wildtrak was designed and tested at legendary racing locations to ensure it's the best of its class in off-road utilities.
The Ford Bronco is a powerful, rugged travel companion that is built to assist you on any adventure. Any of the six mighty models are guaranteed to survive your next outdoor getaway while keeping the joy of discovery alive. If you're ready to take on your next adventure, call Dingwall Ford Kenora at 844-616-4546 or come on down to our showroom to schedule your test drive today. Once you get behind the wheel of your chosen model, you'll be itching to take it home and head out on a grand adventure.