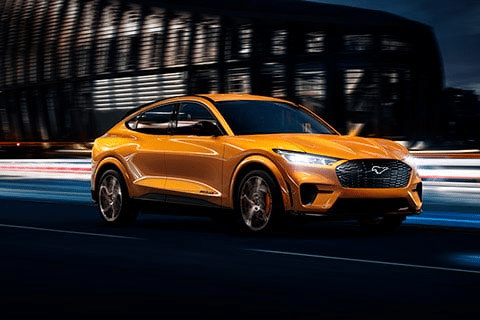 With five models to choose from, the all-electric Mustang Mach-E delivers power and speed, innovative technological features, and safety features that inspire confidence where it counts.
Capabilities
The Mustang Mach-E Premium model didn't get its name by being average. The stats on this vehicle are anything but ordinary. Experience the thrill of 0 - 60 in 4.8 seconds, with 346 horsepower under the hood and 428 lb.-ft. of torque. This is unbridled power. You'll never be last off the light in this thoroughbred.
Available electric all-wheel drive provides comprehensive performance and handling. Front and rear motors distribute power independently to each axle, providing improved handling and connectivity you can count on over challenging terrain.
There's plenty of room in this SUV interior to stretch out, eliminating the need for stops to stretch the legs. With water-resistant storage space, you have the perfect area in the front trunk for all your most important gear. Plus, 59.7 cubic feet of cargo space behind the first-row seats means you've got all the room you need for the journey ahead!
Technology
With a car this forward-thinking, you should expect only the most innovative technologies. SYNC 4A is intelligent and adaptive technology that connects your smartphone to your vehicle in a way you've never experienced before. Using a portrait-style dash screen, you have access to all your contacts, playlists, podcasts, and navigation tools.
No one needs keys anymore, do they? With our E-Latch system, your Mustang Mach-E will recognize you as you approach, present an illuminated button, and with one simple touch, the door opens. It locks automatically when you leave, too.
No matter where you go, you need a soundtrack! Connect your favorite artists and playlists to our SYNC 4A system and enjoy the experience provided by our 10-speaker B&O Sound System, which includes a subwoofer delivering a head-nodding bassline. Inspired by Bang & Olufsen home speakers, the unique design adds a sophisticated touch to the Mach-E interior.
If you're looking for a dose of Vitamin D, look no further than the Panoramic Fixed-Glass Roof. Not only does this roof provide panoramic views, but its special coating helps the interior stay cool in the summer and warm in the winter. You didn't think it would just be a simple window, did you?
Safety
Your safety is our number-one priority. With the Mach-E, we take our safety features to another level. With driver-assistance technologies like our Ford Co-Pilot360 2.0 suite, you'll feel confident every time you get behind the wheel. Ask one of our sales team members which of these safety features are standard for the model you like most. Some of these features include:
Blind Spot Information System with Cross-Traffic Alert. When a vehicle enters your blind spot, we alert you to its presence with a small light in the corresponding side-view mirror. You won't have to take your eyes off the road ahead to execute a flawless lane change when our system is working to provide you with the information you need.
Cross-Traffic Alert is very useful in crowded parking lots or backing down steep driveways. Sensors mounted on both sides of the car detect when vehicles are crossing behind you, alerting you to wait until the coast is clear.
Lane-Keeping System. If you veer out of your detected lane, our system alerts you to focus on the road ahead. If the system detects that you're drifting from time to time, you receive a gentle reminder that a coffee break and stretch of the legs might be a good choice.
Auto High Beams. You may not consider your headlights to be a safety feature, but that's because you haven't seen these. With the ability to detect ambient light, these auto high beams dim and brighten according to current conditions. This system allows you to keep your mind on what's most important while we take care of the lighting details!
About Us
Visit us TODAY and talk with one of our sales team members about how to get your hands on this powerhouse. Once you're behind the wheel, you'll never look back!